Kitchen Connection - United Nations Cookbook
Back to Blogs
Our food system needs fixing, and we are asking Civil Society to be a part of the solution. Food waste and other aspects of the food system contribute heavily to climate change, and symbiotically, climate change contributes to food insecurity. Economic injustices and gender inequalities are largely the reasons why some have too much to eat, while others have too little. Conflict and climate change are the greatest contributors to forced migration and displacement, also leading to increased food insecurity. Crises like the COVID-19 pandemic are a reminder of the importance of food safety, but increasingly, of the importance of responsible human interaction with nature.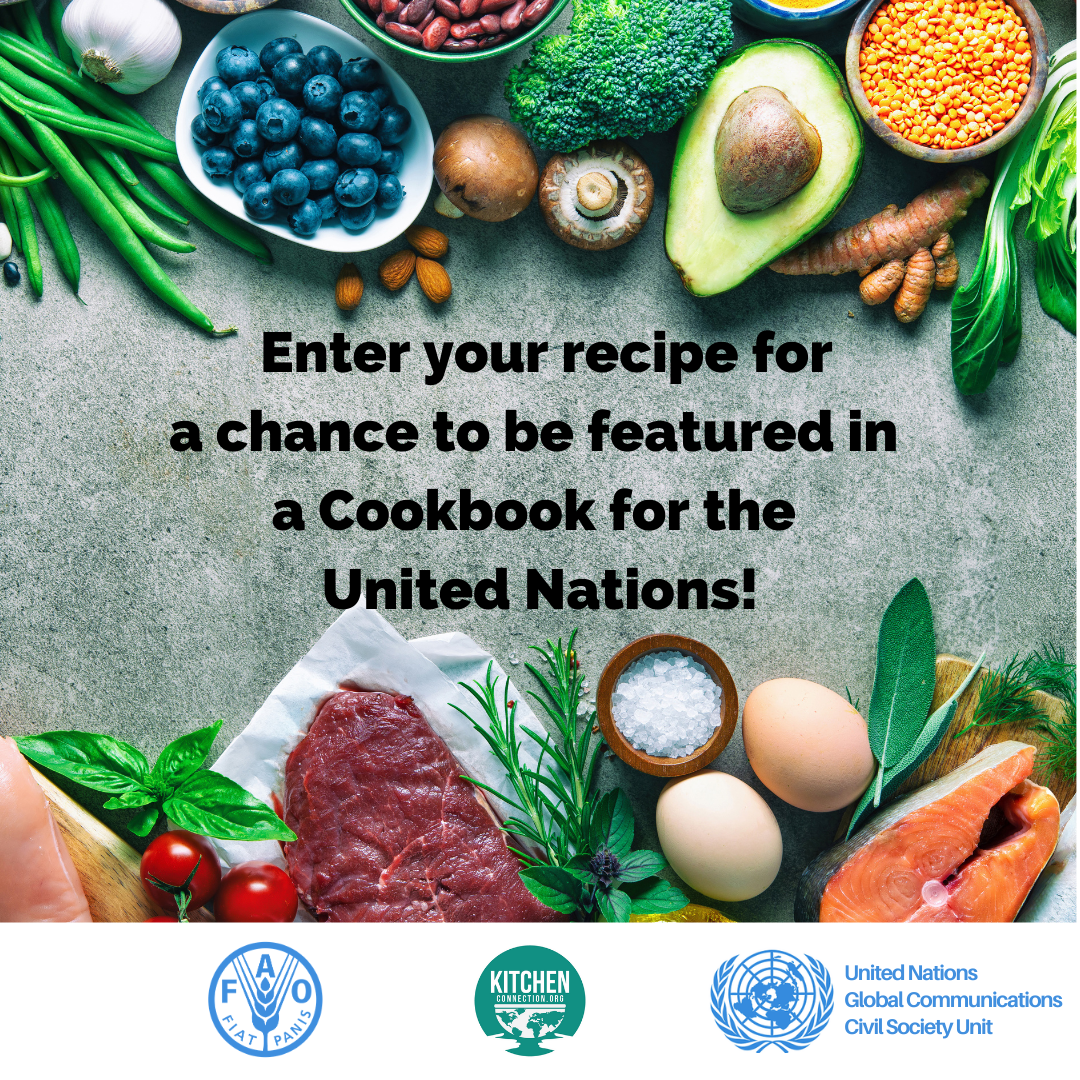 The collapse of small to medium-sized restaurants due to the Pandemic, globally, threatens the international food landscape, prompting a homogenization of cuisines and a prospective shift towards "Big Food," which is a threat to both human health and planetary health. Due to global lockdowns, people around the world are cooking at home more often, which is proven to be better for humans and for the planet, but there needs to be a clear UN-supported effort to direct people to eat in a manner that is sustainable: as much as science can teach us, culture has a tremendous power to do so, too, which is why we are asking Civil Society.
We are looking for recipes to combat some of these challenges for potential inclusion in the United Nations Cookbook. Of course, these can be recipes that individuals already have in their repertoire. We are looking for simple entrees or main dishes with ingredients that are culturally representative of your region but which can also be accessible internationally or with appropriate substitutes. The recipe should take a maximum of 45 minutes to prepare and cook.
Each recipe does not have to be all-inclusive but, we are looking for those that can improve our food system, for example, those that: encourage biodiversity, contribute to soil health, are plant-forward, can reduce waste, use less water, can be locally grown, have a high concentration of nutrients, and can boost the immune system.
ENTER YOUR RECIPE, BELOW!
bit.ly/uncookbook2020
Tags :
Fao
Undgccso
Food Systems
Cookbook
Recipe Challenge
Kitchen Connection
Using this space to Connect you with the world, your world!
Terms & Conditions
READ CAREFULLY. This Terms of Use Agreement ("Terms of Use" or "Agreement") applies to You ("You") and Your ("Your") use of www.KitchenConnection.org ("Site"). The Site is the property of The Kitchen Connection, a New Jersey Limited Liability Company ("The Kitchen Connection" or "We") together with its parents, subsidiaries, affiliates, and designees. The Kitchen Connection is an online platform that connects individuals wanting to learn how to cook a specific dish with others who are willing to teach them, through a live video conference directly embedded into the website. The proceeds of the video conference go to the each instructor's food organization of choice, including The Kitchen Connection's partner charity, Action Against Hunger | ACF International, which is a global humanitarian organization committed to ending world hunger working to save the lives of malnourished children while providing communities with access to safe water and sustainable solutions to hunger..
The Kitchen Connection reserves the right, at its sole discretion, to change, add, or remove portions of the Terms of Use, at any time and without notice. It is Your responsibility to review the Terms of Use each time before using the Site. Your continued use of the Site following the posting of changes to the Terms of Use will mean that You accept and agree to the changes. You agree that all interactions with the Site including any and all purchases by You will be subject to the Terms of Use. As long as You comply with the Terms of Use and any such modifications, The Kitchen Connection grants You a personal, non-exclusive, non-transferable, non-sub-licensable, limited privilege to enter and use the Site.
Consent to Collection, Use & Disclosure of Your Personal Information. As more fully described in the Privacy Policy below, You must disclose certain personally identifiable information to use the Site, and make purchases. As a condition of using the Site or making any purchases of any products and/or services or conduct any transactions, You represent that You have first read the Privacy Policy and consent to the collection, use, and disclosure of Your personally identifiable information and non-personally identifiable information as described in the Privacy Policy. The Privacy Policy may change from time to time, and as a condition of browsing the Site, creating an Account, using any features or making any purchase, You agree that You will first review the Privacy Policy prior to making any purchases. While The Kitchen Connection takes reasonable steps to safeguard and to prevent unauthorized access to Your Account information, The Kitchen Connection cannot be responsible for the acts of those who gain unauthorized access to the Site, or Your Account information, and The Kitchen Connection makes no warranty, express, implied, or otherwise, that The Kitchen Connection will prevent unauthorized access to Your Account information. IN NO EVENT SHALL THE KITCHEN CONNECTION NOR ITS SUBSIDIARIES, AFFILIATES OR DESIGNEES NOR THEIR EMPLOYEES, DIRECTORS, OFFICERS, AFFILIATES, LICENSEES, AGENTS, THIRD-PARTY CONTENT PROVIDERS, DESIGNERS, CONTRACTORS, DISTRIBUTORS, MERCHANTS, SPONSORS, LICENSORS, OR THE LIKE (COLLECTIVELY, "ASSOCIATES") NOR THEIR SUCCESSORS OR ASSIGNS BE LIABLE FOR ANY DAMAGES (WHETHER CONSEQUENTIAL, DIRECT, INCIDENTAL, INDIRECT, PUNITIVE, SPECIAL, OR OTHERWISE) ARISING OUT OF, OR IN ANY WAY CONNECTED WITH, A THIRD PARTY'S UNAUTHORIZED ACCESS TO YOUR ACCOUNT INFORMATION, REGARDLESS OF WHETHER SUCH DAMAGES ARE BASED ON CONTRACT, STRICT LIABILITY, TORT, OR OTHER THEORIES OF LIABILITY, AND REGARDLESS OF WHETHER THE KITCHEN CONNECTION WAS GIVEN ACTUAL OR CONSTRUCTIVE NOTICE THAT DAMAGES WERE POSSIBLE.
Intended Users. The Site is intended for use by individuals over the age of eighteen (18) years old. Users of the Site under the age of eighteen (18) require the assistance of a parent or guardian.
Disclosure: Users of our Connections feature - live cooking or live topic classes - are only to be of the minimum adult age in every country, that is 18 in the United States, and that which is according to the respective laws of the user's country of citizenship or residence. We are not liable for any harm that is done to our users and/or their property before, during, and after these Connections.
Copyright and Intellectual Property Policy. All names, logos, service marks, and trademarks appearing in this Site, including the trademarks, service marks, brand identities, characters, trade names, graphics, designs, copyrights, trade dress, and all other intellectual property ("Content"), except as otherwise noted, are protected intellectual property of, or used with permission or under license by, The Kitchen Connection, its Clients, and its Affiliates. This includes the entire Content of the Site, copyrighted and protected as a collective work.
The use or misuse of these trademarks or any other content on this Site, except as provided in these Terms of Use or in the Site content, is strictly prohibited. You may print copies of the information on this Site for your personal use, store the files on your computer for personal use, or reference this server from your own documents. However, you may not distribute text or graphics to others without our express written consent. Also, you may not, without our permission, copy and distribute this information on any other server or modify or re-use text or graphics on this system or another system. We reserve all other rights.
Your use of the Site is limited to personal and non-commercial use only unless other uses are granted expressly to you. You may not copy, distribute, modify, transmit, reuse, re-post, or otherwise display the Site Content for public or commercial purposes without The Kitchen Connection's written permission for such use of Content. You may not harvest or otherwise collect information about others, take any action that imposes an unreasonably large load on the Site's servers, violate the security of the Site, or engage in any other conduct that exposes us or any of our users to any liability or potential harm. Reviews and the aggregation thereof remain on the platform despite the deletion of any user's profile.
The Kitchen Connection respects the intellectual property of others and we ask our users to do the same. The Kitchen Connection has no responsibility for content on other Sites that you may find or access when using the Site. Material available on or through other Sites may be protected by copyright and the intellectual property laws of the United States and/or other countries. The Terms of Use of those Sites, and not this Site's Terms of Use, govern your use of that material.
It is The Kitchen Connection's policy, in appropriate circumstances and at its discretion, to disable and/or terminate the accounts of users who may infringe or repeatedly infringe the copyrights or other intellectual property rights of The Kitchen Connection and/or others.
Conditions of Sale and Payment Terms. To purchase any goods and/or services on the Site, You must be at least eighteen (18) years old or the applicable state age of majority.
You must provide The Kitchen Connection and its payment processor, PayPal, with a valid payment method, through the use of a valid Credit Card or PayPal Account prior to the purchase of any goods or services on the Site. Through the submission of Your payment information to The Kitchen Connection, You hereby agree, and authorize The Kitchen Connection to charge Your account the purchase amount. Payment will be processed daily, but frequency may be changed at any time, without notice. All charges from any and all sales are subject to The Kitchen Connection Terms of Use & Privacy Policy.
Methods of Payment, Terms, and Taxes. The Kitchen Connection uses PayPal to process all payments. For more information regarding PayPal policies and procedures visit PayPal.com. The Kitchen Connection takes a commission of 10% in addition to any fees incurred by the platform through Paypal (normally 2.5% but subject to change). In the future, The Kitchen Connection may accept other methods of payment. Your PayPal Account or Your Card Issuer Agreement governs Your use of Your designated PayPal Account or Credit Card, and You must refer to that Agreement and not the Terms of Use to determine Your rights and liabilities as an Account User or Cardholder. You agree to pay all valid fees and charges incurred in connection with Your purchases (including any applicable taxes) at the rates in effect at the time the charges were incurred. You are responsible for paying any valid governmental taxes or fees imposed on Your purchases, including, but not limited to, sales, use, excise, value-added tax (VAT), or other similar taxes.
Refund policy — Kitchen Connection acts as an intermediary — when you schedule a class you and the host of the live cooking class enter into a contract. If the host for any reason breaches the contract, he/she can issue refunds directly through Paypal. However, funds dispersed to charitable organizations may not be refunded.
Delivery. All orders placed on this Site are delivered via Google Hangouts. If Your order has an error, You must notify The Kitchen Connection within twenty-four (24) hours. Email [email protected] within twenty-four (24) hours of the error and put in the subject line "Error".
Order Acceptance Policy. Your receipt of an electronic order confirmation or other form of order confirmation does not signify The Kitchen Connection's acceptance of Your order, nor does it constitute confirmation of Kitchen's offer to sell. The Kitchen Connection reserves the right at any time after receipt of Your order to accept or decline Your order for any reason. The Kitchen Connection further reserves the right any time after receipt of Your order, without prior notice to You and for any reason, to supply less than the quantity You ordered of any item. Your order will be deemed accepted by The Kitchen Connection upon its delivery of products or services that You have ordered. The Kitchen Connection may require additional verifications or information before accepting any order.
No Responsibility to Sell Mispriced Products or Services. The Kitchen Connection shall have the right to refuse or cancel any orders placed for products and/or services listed at an incorrect price, rebate or refund, or containing any other incorrect information or typographical errors. The Kitchen Connection shall have the right to refuse or cancel any such orders whether or not the order has been confirmed and Your Credit Card or PayPal Account has been charged. If Your Credit Card or PayPal Account has already been charged for the purchase and Your order is canceled, The Kitchen Connection shall issue a credit to Your PayPal Account in the amount of the charge. Your Credit Card or PayPal Account policies will dictate when this amount is credited to Your Account.
Modifications to Prices or Billing Terms. THE KITCHEN CONNECTION RESERVES THE RIGHT, AT ANY TIME, TO CHANGE ITS PRICES AND BILLING METHODS FOR PRODUCTS OR SERVICES SOLD, EFFECTIVE IMMEDIATELY UPON POSTING ON THE SITE OR BY E-MAIL DELIVERY TO YOU.
Indemnification. You agree to indemnify and hold harmless The Kitchen Connection and its Affiliates and their successors and assigns, and other Users from any claim or demand, including reasonable attorneys' fees, made by any third party arising out of or related to Your use of the Site, Your violation or alleged breach of the Terms of Use, Your dispute with another User, the unauthorized access to the Site using Your account or password, or Your violation of any law, regulation, or third-party right.
DISCLAIMER OF WARRANTIES. By using the Site, You expressly agree that use of the Site is at Your sole risk. The Site is provided on an "AS IS" and "As Available" basis. Neither The Kitchen Connection nor its Associates warrant that use of the Site will be uninterrupted or error-free. Neither The Kitchen Connection nor its Associates warrant the accuracy, integrity, or completeness of the content provided on the Site or the products or services offered for sale on the Site. Further, The Kitchen Connection makes no representation that content provided on the Site is applicable to or appropriate for use in all locations or all Users. The Kitchen Connection and its Associates specifically disclaim all warranties, whether expressed or implied, including but not limited to warranties of title and merchantability or fitness for a particular purpose. No oral advice or written information given by The Kitchen Connection or its Associates shall create a warranty. Some states do not allow the exclusion or limitation of certain warranties, so the above limitation or exclusion may not apply to You.
LIMITATION OF LIABILITY. Under no circumstances shall The Kitchen Connection or its Associates be liable for any direct, indirect, incidental, special or consequential damages that result from Your use of, or inability to use the Site, including but not limited to reliance by You on any information obtained from the Site that results in mistakes, omissions, interruptions, deletion or corruption of files, viruses, delays in operation or transmission, or any failure of performance. The foregoing Limitation of Liability shall apply in any action, whether in contract, tort, or any other claim, even if an authorized representative of The Kitchen Connection has been advised of or should have knowledge of the possibility of such damages. You hereby acknowledge that this paragraph shall apply to all content, merchandise and services available through the Site. Some states do not allow the exclusion or limitation of incidental or consequential damages, so the above limitation or exclusion may not apply to You.
THE KITCHEN CONNECTION IS NOT RESPONSIBLE FOR ANY AND ALL HARM THAT ARISES FROM THE VIEWING OR RECEPTION OF ANY AND ALL USER MESSAGES. YOU AGREE TO HOLD THE KITCHEN CONNECTION FREE FROM ANY AND ALL LIABILITY IN TORT, CONTRACT, OR ANY OTHER LEGAL THEORY FOR ANY AND ALL HARM THAT ARISES FROM THE USE OF THE SITE AND THE VIEWING OF ANY AND ALL MESSAGES, OR FAILURE OF A MESSAGE, OR LACK OF MESSAGE. YOU AGREE TO HOLD THE KITCHEN CONNECTION FREE FROM ANY AND ALL DAMAGES ARISING FROM THE USE OF THE SITE OR THE FAILURE OF THE SITE.
THE KITCHEN CONNECTION IS NOT RESPONSIBLE FOR ANY AND ALL HARM THAT ARISES FROM THE CONSUMPTION AND/OR USE OF RECIPES AND INSTRUCTIONS FROM A VIDEO CONFERENCE IN PREPARATION OF AND CREATION OF A MEAL. YOU AGREE TO HOLD THE KITCHEN CONNECTION FREE FROM ANY AND ALL LIABILITY IN TORT, CONTRACT, OR ANY OTHER LEGAL THEORY FOR ANY AND ALL HARM THAT ARISES FROM THE CONSUMPTION OF RECIPES AND MEALS AND/OR USE OF THE SERVICES THE KITCHEN CONNECTION SELLS. YOU AGREE TO HOLD THE KITCHEN CONNECTION FREE FROM ANY AND ALL DAMAGES ARISING FROM THE CONSUMPTION OF RECIPES AND MEALS AND/OR USE OF ANY SERVICES THE KITCHEN CONNECTION SELLS.
.
Termination. The Kitchen Connection may terminate Your access to the Site at any time, for any reason, without notice, in its sole discretion. You are personally liable for all orders placed and charges incurred prior to termination. YOU AGREE THAT THE KITCHEN CONNECTION WILL NOT BE LIABLE TO YOU OR TO ANY THIRD PARTY FOR TERMINATION OF YOUR ACCESS TO THE SITE. The Kitchen Connection reserves the right to change, suspend, or discontinue any or all aspects of the Site at any time, without notice, in its sole discretion. If You become dissatisfied with the Site, Your only recourse is to immediately discontinue use of the Site.
DISPUTE RESOLUTION, BINDING ARBITRATION. PLEASE READ THIS SECTION CAREFULLY. THROUGH USE OF THIS SITE YOU ARE GIVING UP RIGHTS THAT YOU MAY OTHERWISE HAVE. IT PROVIDES FOR RESOLUTION OF DISPUTES THAT YOU OR THE KITCHEN CONNECTION MAY HAVE WITH EACH OTHER THROUGH INDIVIDUAL ARBITRATION INSTEAD OF THROUGH COURT TRIALS, JURY TRIALS, OR CLASS ACTIONS. ARBITRATION IS FINAL AND BINDING AND SUBJECT TO LIMITED REVIEW BY A COURT. THIS ARBITRATION CLAUSE SHALL SURVIVE TERMINATION OF THIS AGREEMENT.
This Section is intended to be interpreted broadly to encompass all disputes or claims arising out of this Agreement, or Your purchase, or use of any product or service from The Kitchen Connection.
ANY DISPUTE OR CLAIM MADE BY YOU AGAINST THE KITCHEN CONNECTION ARISING OUT OF OR RELATING TO THIS AGREEMENT, OR YOUR PURCHASE OR USE OF ANY THE KITCHEN CONNECTION SERVICE OR PRODUCT REGARDLESS OF WHETHER SUCH DISPUTE OR CLAIM IS BASED IN CONTRACT, TORT, STATUTE, FRAUD, MISREPRESENTATION, OR ANY OTHER LEGAL THEORY (TOGETHER, A "DISPUTE") WILL BE RESOLVED BY INFORMAL NEGOTIATIONS OR THROUGH BINDING ARBITRATION, AS DESCRIBED BELOW.
Informal Negotiations. To expedite resolution and control the cost of a Dispute, you and The Kitchen Connection agree to first attempt to resolve a Dispute informally for at least thirty (30) days before initiating any arbitration. Such Informal Negotiations will commence upon written notice from one party to the other. You must send Your notice to [email protected] Please include in the subject line of the email "Request to Negotiate".
Arbitration Procedures. If You and The Kitchen Connection are unable to resolve a Dispute through Informal Negotiations, either You or The Kitchen Connection may elect to have a Dispute resolved by binding arbitration by notifying the other party of such election, only if not satisfied with the remedy after informal negations are complete.
YOU AND THE KITCHEN CONNECTION AGREE THAT IN THE EVENT EITHER PARTY ELECTS TO ARBITRATE, THE ARBITRATOR(S) DECISION SHALL BE BINDING. FURTHERMORE, ALL PARTIES TO THE ARBITRATION PROCEEDING AGREE AND CONSENT THAT ALL ARBITRATION PROCEEDINGS SHALL BE HELD IN HUDSON COUNTY IN THE STATE OF NEW JERSEY.
You and The Kitchen Connection agree to waive the right to litigate any Dispute in court and before a jury, and agree that this Arbitration provision will be governed by the Federal Arbitration Act to the maximum extent permitted by law. You and The Kitchen Connection further agree that any arbitrator that arbitrates a Dispute under this provision is without jurisdiction to conduct a class arbitration or other representative proceeding, and may not consolidate one person's claims with another.
You and The Kitchen Connection agree that all issues of enforceability of this Agreement to Arbitrate – including issues relating to scope, validity, and unconscionability – will be decided by the arbitrator. If for any reason this Arbitration Provision is deemed inapplicable or invalid, You and The Kitchen Connection both waive, to the fullest extent allowed by law, the right to a jury trial and any claims relating to a Dispute to recover punitive or exemplary damages and any right to pursue any claims on a class or consolidated basis or in a representative capacity.
The Arbitration will be commenced and conducted under the Commercial Arbitration Rules of the American Arbitration Association ("AAA") and the AAA's Supplementary Procedures for Consumer-Related Disputes ("AAA Consumer Procedures"), both of which are available at the AAA website, www.adr.org, or which may be acquired by calling the AAA at 1 (800) 778-7879.
Any Arbitration will be confidential, and neither You nor The Kitchen Connection may disclose the existence, content, or results of any Arbitration, except as may be required by law or for purposes of enforcement of the arbitration award. Judgment on any arbitration award may be entered in any court having proper jurisdiction.
If any portion of this Arbitration Provision is determined by a court or the arbitrator to be inapplicable or invalid, then the remainder shall still be given full force and effect.
No delay or failure to take action under the Terms of Use shall constitute any waiver by The Kitchen Connection of any provision of the Terms of Use. If any provision of the Terms of Use is found to be invalid or unenforceable under applicable law, it shall be severed from the Terms of Use, and the remaining provisions of the Terms of Use shall continue in full force and effect. The Terms of Use will bind and inure to the benefit of The Kitchen Connection, successors, and assigns. Any Dispute under the Terms of Use shall be brought within one (1) year after the date of which the cause of action arises.
Costs of Arbitration. Payment of all Arbitrator fees, expenses, and administrative fees (which include filing and hearing fees) shall be paid for by the Party electing to Arbitrate. Where not in conflict with any of The Kitchen Connection's Terms of Use, the Arbitration procedure will be governed by the American Arbitration Association.
In all Arbitrations, each party will bear the expense of its own counsel, experts, witnesses, and preparation and presentation of evidence at the Arbitration.
Assignment, Delegation, Transferability. The Terms of Use is personal to You and may not be transferred, assigned, or delegated to anyone. Any attempt by You to assign, transfer, or delegate the Terms of Use shall be null and void. The Kitchen Connection may freely assign the Terms of Use without consent or notice.
Notice. Except as expressly stated otherwise, all notices shall be given to The Kitchen Connection or its Affiliates or their successors or assigns at [email protected] or to You at the email address provided to The Kitchen Connection. Notice shall be deemed given twenty-four (24) hours after the email is sent, unless the sending party is notified that the email address is invalid. The Terms of Use (including all documents expressly incorporated herein by reference) constitutes the complete and exclusive Agreement between The Kitchen Connection and You, and supersedes all prior oral or written understandings, communications or agreements not specifically incorporated herein. All provisions in the Terms of Use regarding representations and warranties, indemnification, disclaimers, and limitations of liability, shall survive the termination of the Terms of Use.
Any content uploaded to our site can be used to promote you and what you do on our social media. It will not be sold or disbursed to any third parties.
You may not communicate with users directly or provide your email, Skype, or phone number
Live video sessions that take place on Kitchen Connection may be edited and recorded and used for promotional purposes.
By using the site and all of its services, you agree to these terms and conditions.
FAQs
GENERAL/PERSONAL FAQS 
How did you get started?
What inspired Kitchen Connection? Check out our 'Founding Story Video' and complementary Blog, about how a trip to Ghana inspired us
Who are your sponsors and supporters? 
Sponsors and supporters include: Action Against Hunger, New York University Food Studies Program, The American Culinary Federation (Puerto Rico), Whole Foods Market (Bowery), World Association of Chefs Society.
How do I become 'featured' on Kitchen Connection? 
Reach out support team at [email protected] Make sure your profile is complete. If approved, you'll be at the front of our platform for all to know and learn about you.
BUSINESS FAQS
How does it work? 
Basically, you create a profile, share your food knowledge via link/picture updates, and communicate with the most expansive online food community in the world via chat or live video session. Through these live video sessions, you can share a topic to talk about or a recipe to teach with up to 5 other users. Current topics include 'Tips for traveling while being a vegetarian' or 'What is Tahitian Food?' Relevant recipes include: 'How to Make Couscous' or 'Make a pizza like nonna with me!' Check out our 'How it Works Video' and our landing page for more info.  
What are the benefits?
 Share your love of food. Meet other foodies. Promote your country through food. Stay on top of global food trends. Affiliated with any food or culinary organizations? Have this showcased on your profile. Add links to expose and promote your work or that of your organization. Make money (if you so wish to charge). Donate to our partner charity, Action Against Hunger. Search for dishes with the ingredients you have in your fridge right now. Locate your favorite foods by name or by region, if you don't know what they're called. Put yourself on our 'map' where you can see where our other Foodies are cooking today. 
How does pricing work? 
Signing up, creating a profile, sharing and posting is free. Depending on the Cheffie, live connections can either be free or paid via PayPal. If paid, all or some of the funds can be donated to our partner charity, Action Against Hunger. To support the platform, Kitchen Connection takes 10% of paid live video connections. 
What is expected of me? 
You are expected to complete and update your profile, keeping the community informed with any news of your contribution to the food space. New recipe book? Share it! Discovered a new product or ingredient? Share it! Simply creating a profile enables you to be a part of the world's most extensive online food community, from farmers to iron chefs. 
What is the time commitment? 
As much as you want! The more you share, the better your SEO rankings and the more potential customers, followers, and food lovers you attract. 
What do I need? 
A computer or web-enabled mobile device. For the live video session, you need one that supports either Google Chrome, Firefox, Internet Explorer, or Opera
Do I need to be in the food industry to join? 
No! This is for anyone with a passion for food and culture, wanting to learn from and connect with others who do. Be a foodie today! (link to sign up) 
Do I need to speak a certain language or be in a certain country?
No! Connect with people live from anywhere in the world, and even practice a new language! 
Who are we looking for? 
A 'cheffie' on our platform, is a professional or non-professional in the food world, a lover of all things food. This can be a restaurant owner, farmer, food vendor, importer, exporter, chef, home cook, culinary student, maker, crafts(wo)men, bartender, food blogger, food stylist, recipe author, cook, food association, beverage association, food media company, or fitness/nutrition expert, among others. Is this you? Join us!