Kitchen Connection - Kitchen Connection Goes to: Thailand!
Back to Blogs
Thailand's tropical climate may catch some people by surprise. Having an average temperature of 82 degrees Fahrenheit paired with high humidity, March to May are hot months.
Temples are huge landmarks in Thailand's religious environment. Wat Saket (known for gold chedi and city views), Wat Chedi Luang (known for its ruined chedi), and Wat Phra Kaew (known for its architecture) are all beautiful temples that are worth the visit.
Experience the architecture: The Grand Palace commands respect from all who have walked in the sacred grounds. It continues to have visitors in awe with its beautiful architecture and intricate detail.
Insider Footage
Country: Thailand
Continent: South-Eastern Asia
Capital: Bangkok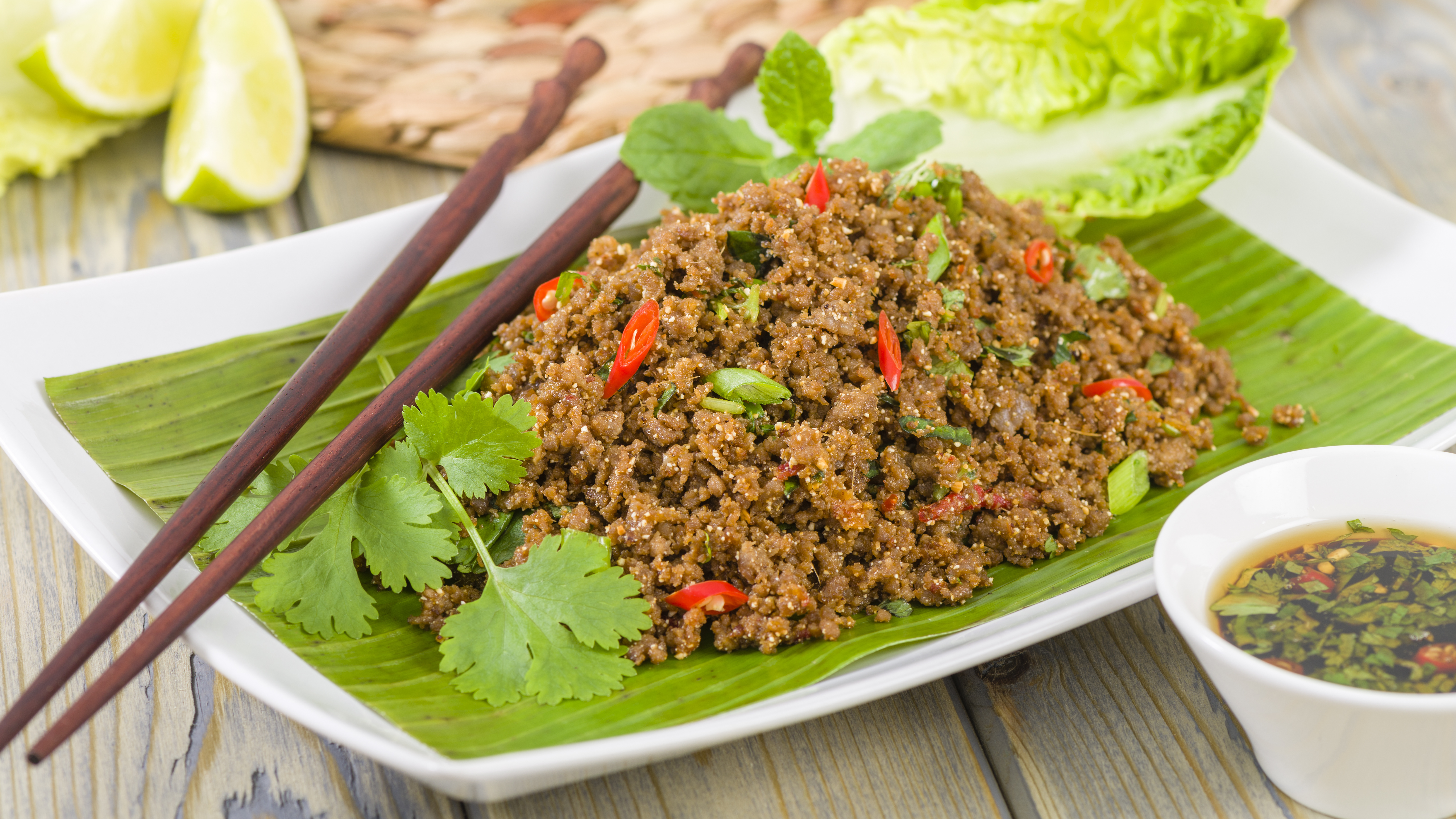 Laap
Laap (also known as larb or larp) is a dish consisting of minced meat seasoned with roasted rice powder, lime juice, fish sauce and fresh herbs.
Largest City (ies): Bangkok
Culinary travel destination(s): Bangkok, Phuket
Primary Language(s): Thai
%Urban to Rural: 50.4% Urban vs. 49.6% Rural
Primary Agricultural Exports: A leader in the global rice export markets, Thailand consistently competes for the top exporting spot worldwide, while also relying on farmers to cultivate the grain for use as a primary food staple in the Thai diet.
Population: 67.01 million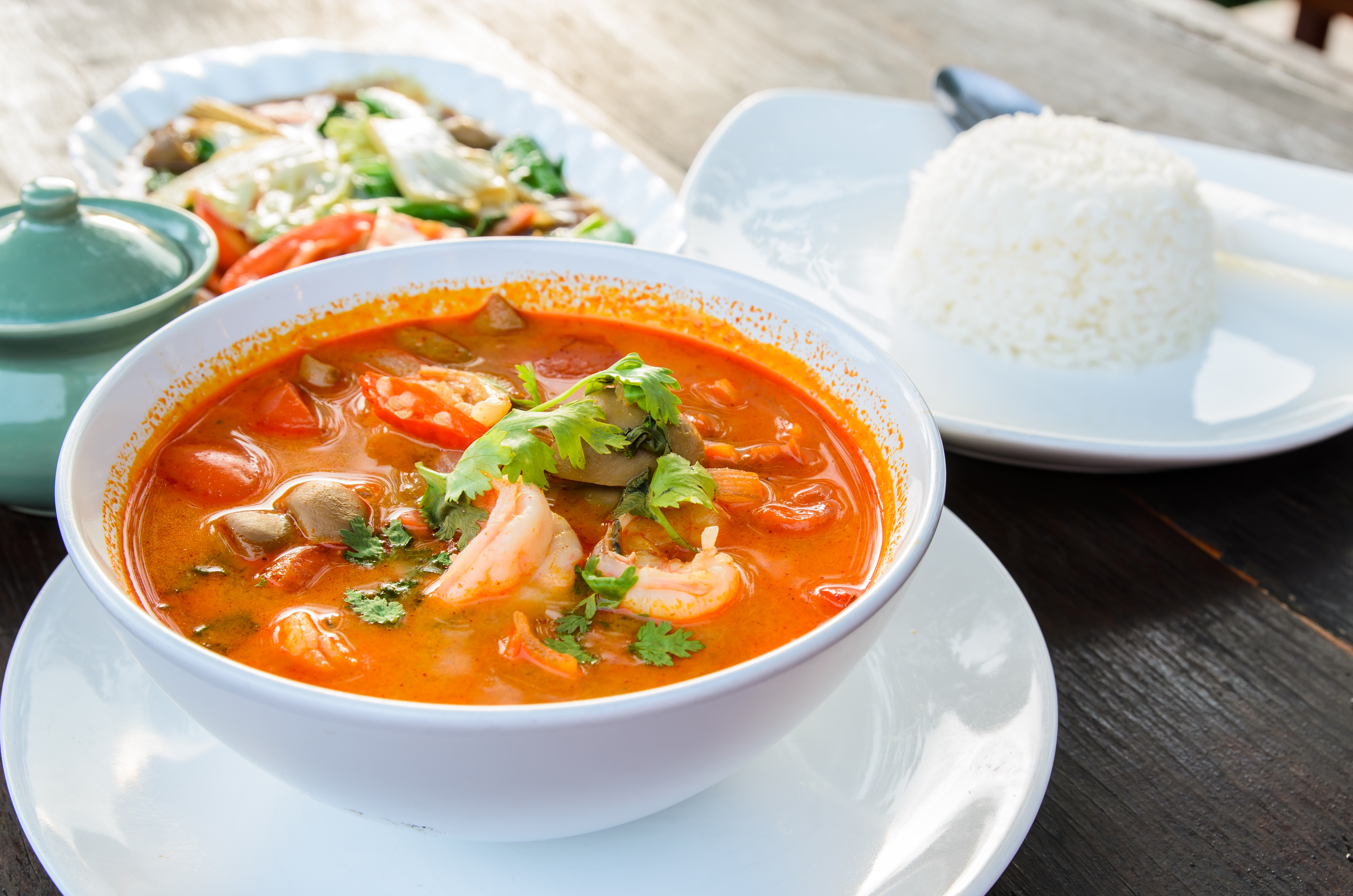 Tom Yam
This herb-forward broth is often referred to in English-language menus as sour Thai soup. The shrimp version is the most praised: the combination of fatty prawns and a tart/spicy soup result is unusual but delicious.
*Caloric intake available daily per person: 2,540
*Alcohol consumption per person: 7.1 litres
*Obese population: male 4.7% /female 9.1%
*Big Mac Price: 3.40 U.S. Dollars
*Meat consumption per person per year: 25.8 kg
*Prevalence of Hunger: 7.4%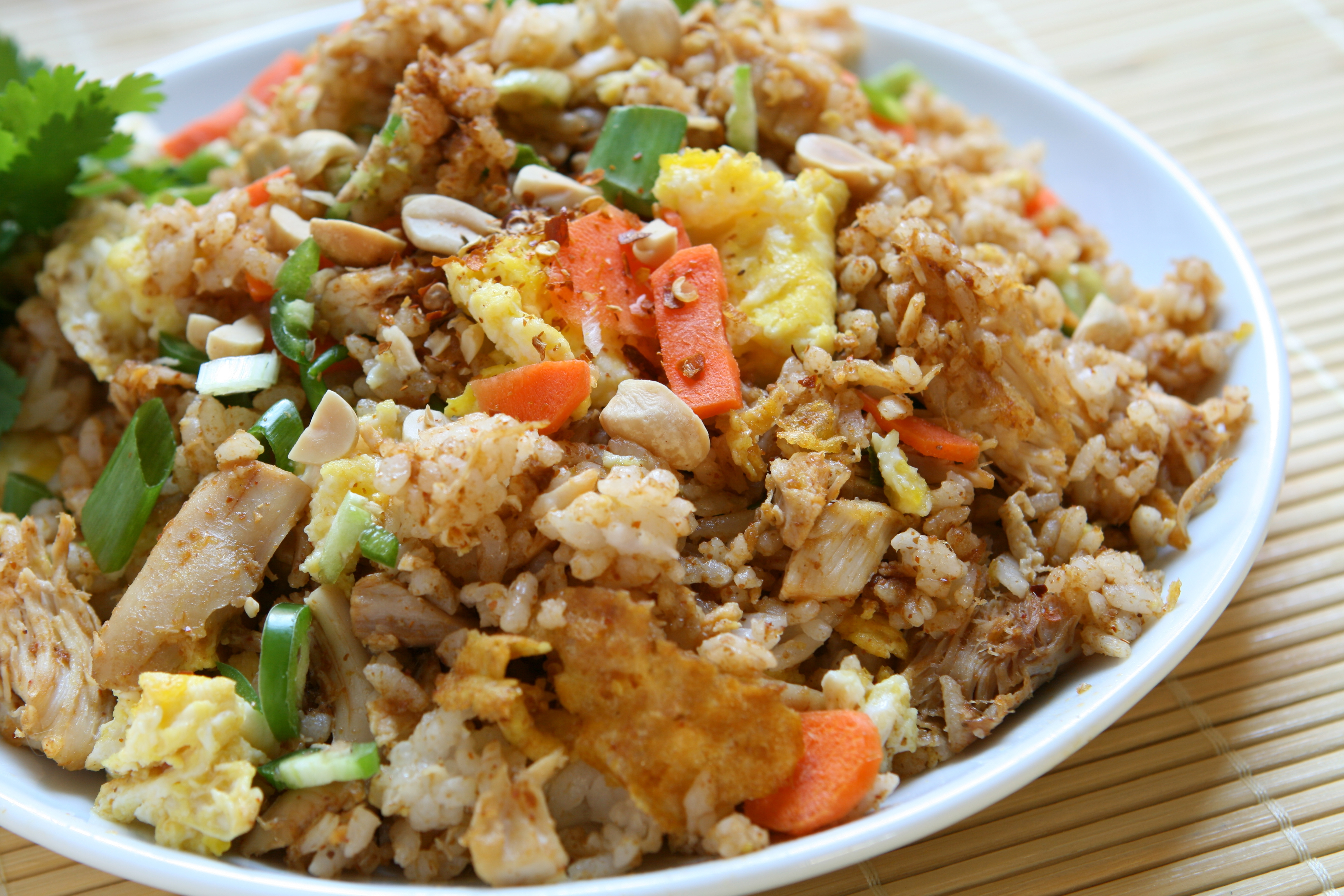 Khao phat
Thai fried rice is a variety of fried rice typical of central Thai cuisine. It can be made in a variety of different ways but the staple at seafood restaurants across the country is the simple but delicious khao phat puu, which is rice fried with hearty chunks of crab and egg.
Culture: Thailand's culture is influenced by India, China, Cambodia, and the rest of Southeast Asia. Animism, Indian culture and Buddhism are primary influences.
National Dish (es): Pad Thai, phat Thai or phad Thai is a stir-fried rice noodle dish commonly served as a street food and at casual local eateries in Thailand.
National Drink(s): Sang som rum is distilled from sugarcane and has become a dominant brand in the Thai spirits market. Its alcohol content is 40 percent.
Special Holiday Foods: Songran Festival, also known as Thai New Year, Karamae (a Thai caramel) is made, as well as Khao Niew Dang (sweetened red glutinous rice) to give among friends and relatives.
Fun facts: Thailand is home to the world's smallest mammal, the Craseonycteris thonglongyai (the bumble bat) and the world's largest fish, the 12-meter Rhincodon typus (the whale shark).
Tags :
Kitchen Connection
Thailand
Featured
Country
Food
Travel
Kitchen Connection

Using this space to Connect you with the world, your world!