Kitchen Connection - Kitchen Connection Goes to: Sri Lanka!
Back to Blogs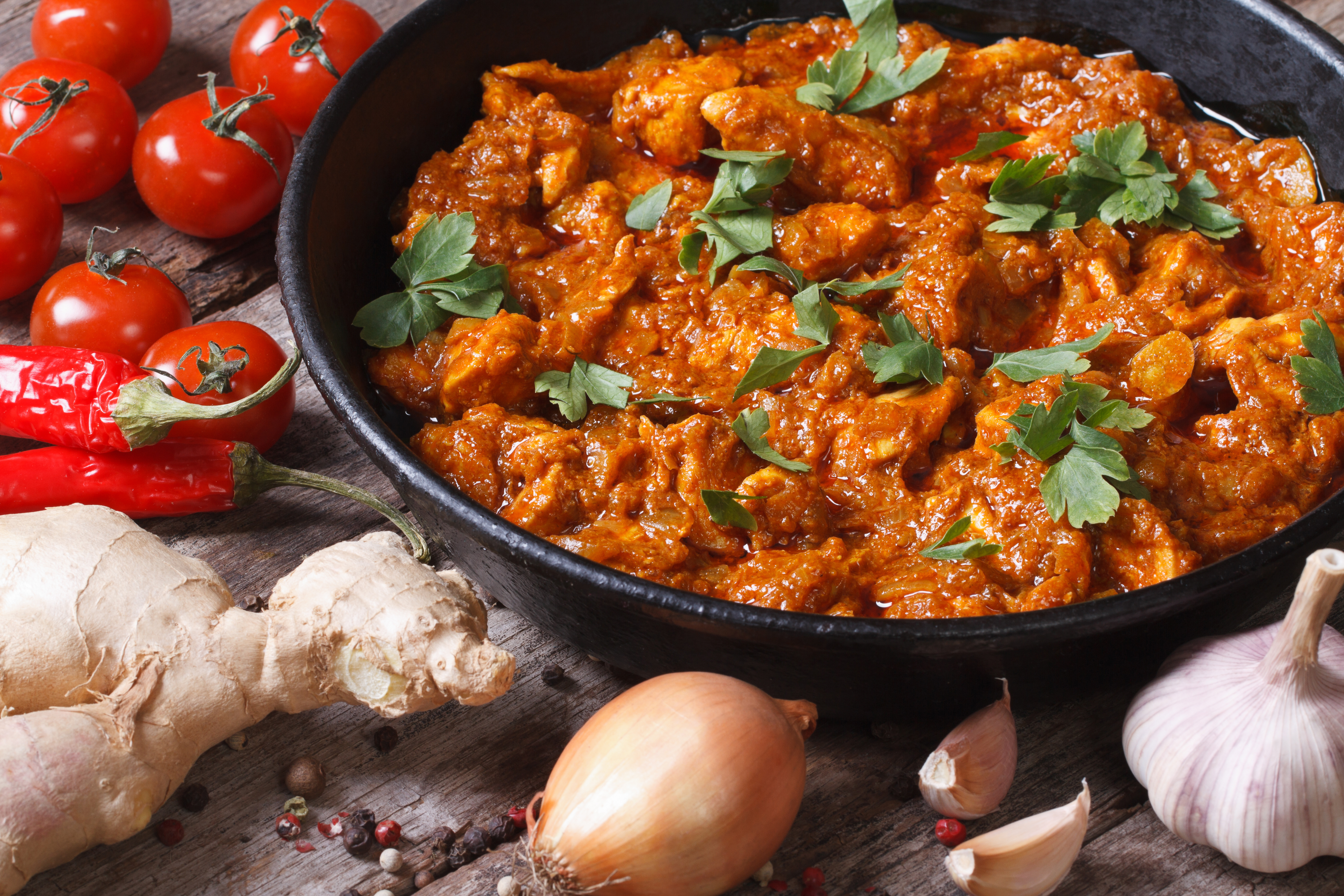 Step onto Sri Lanka and the first thing you'll notice is the tropical climate that has distinct wet and dry seasons. Abundant rainfall comes from May to September while its dry season is typically from December to May.

Animal lover or not, the Pinnawala Elephant Orphanage is a must-see while visiting Sri Lanka. It is halfway between Colombo and Kandy in a town called Kegalle. Established in 1975, the orphanage has 25 acres to protect and care for elephants found in the jungle that visitors can interact with.
Beautiful, natural landmarks cover Sri Lanka and provide amazing views while exploring. Adam's Peak, Horton Plains National Park, Sinharaja Forest Reserve, and more are great to see while in Sri Lanka.
Insider Footage
Country: Sri Lanka
Continent: South-Central Asia
Capital: Sri Jayawardenepura Kotte and Colombo
Kukul Mas Curry
Kukul mas curry is a mainstay of Sri Lankan cuisine. This dish is essentially chicken curry that's flavor is enhanced the longer it has been marinating prior to cooking.
Largest City (ies): Colombo
Culinary travel destination(s): Colombo, Ella, & Unawatuna
Primary Language(s): Sinhala, Tamil, & English
%Urban to Rural: 18.4% Urban vs. 81.6% Rural
Primary Agricultural Exports: Sri Lanka produces more than 900,000 metric tons of fruit and vegetables annually and exports both fresh and processed varieties to many destinations in the world. Low country and dry or wet areas are suitable for a variety of exotic tropical fruits and vegetables ranging from gherkins, green chilli, red onion, pumpkin, bitter gourd, melon, sweet and sour banana types, queen pineapple, papaya, mango, and lemon. Cool climatic conditions in the country's central hill country are ideal for temperate crops such as carrot, leek, cabbage, cauliflower, salad leaves, beet, bean, bell pepper and salad cucumber.
Population: 20.48 million
Kottu
Kottu, also known as koththu roti, is a Sri Lankan dish made from Godhamba roti and vegetables, egg and/or meat, and spices.
*Food expenditure for one week: €36 or ~$41
*Caloric intake available daily per person: 2,370
*Alcohol consumption per person: 3.7 litres
*Obese population: male 2.6% /female 7.2%
*Big Mac Price: 3.63 U.S. Dollars
*Meat consumption per person per year: 6.3 kg
Prevalence of Hunger: 22.0%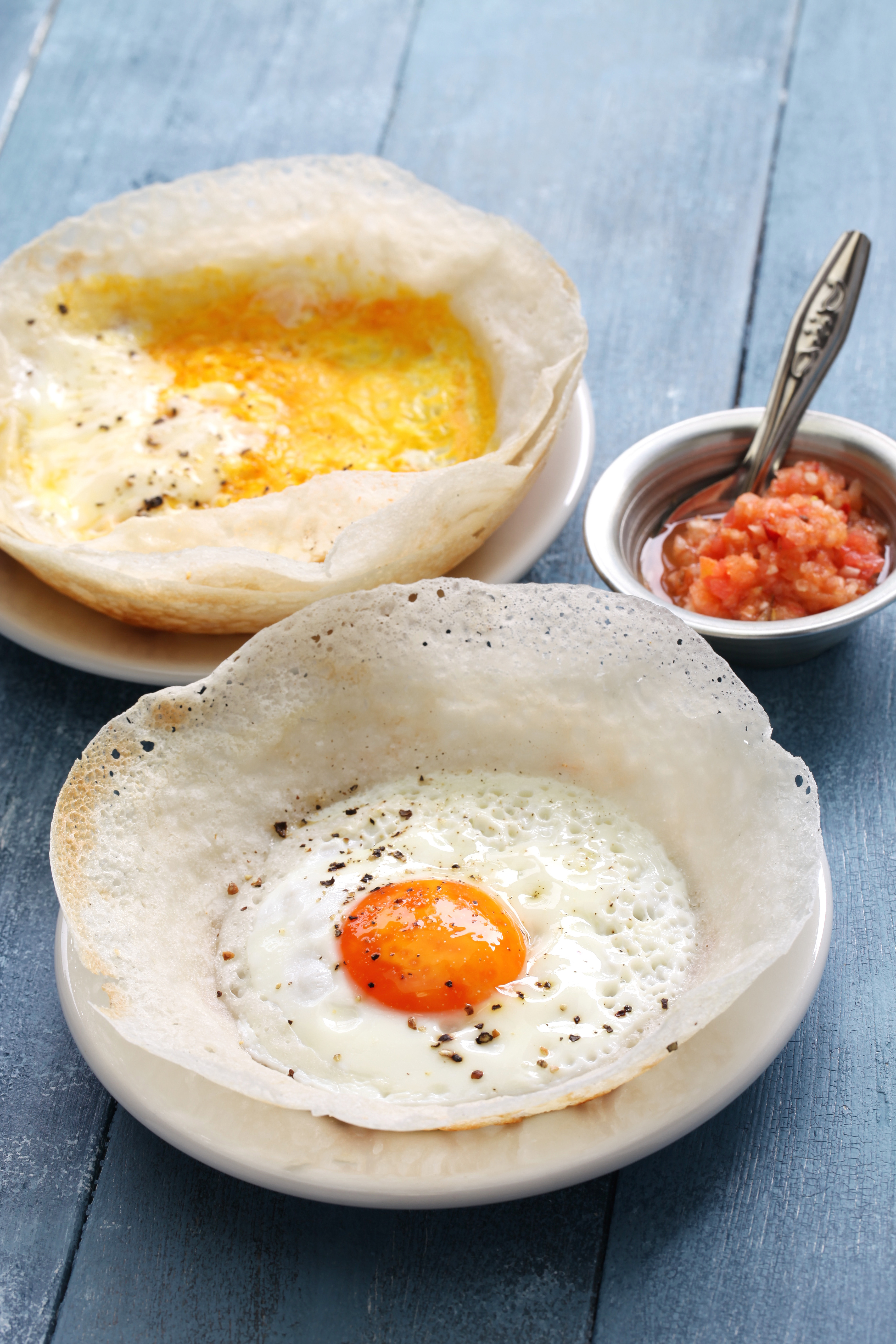 Egg Hopper
Egg Hoppers is a very popular street food in Sri Lanka. The crêpe-like "bowls" are a made from rice flour and coconut milk that form edible bowls for simply cooked eggs.
Culture: The culture of Sri Lanka mixes modern elements with traditional aspects and is known for its regional diversity. Sri Lankan culture has been influenced by the heritage of Theravada Buddhism passed on from India. The religion's legacy is particularly strong in Sri Lanka's southern and central regions.
National Dish (es): A typical Sri-Lankan dish consists of rice and prawns. The central feature of Sri Lankan cuisine is boiled or steamed rice, served with a curry of fish, chicken, beef, mutton, or goat, along with other curries made with vegetables, lentils, or fruits.
National Drink(s): Tea is the national drink of Sri Lanka and is said to be amongst the best in the world. One known tea is called toddy, a mildly alcoholic fermented drink that is tapped from palm trees – often illegally – and drunk across Sri Lanka. Another is called arrack, which is a potent liquor made from the sap of palm trees.
Fun foodie facts: Sri Lanka is one of the world's largest tea exporters and the spice cinnamon originated on the island and was discovered by the Egyptians.
Tags :
Kitchen Connection
Sri Lanka
Featured
Country
Food
Travel
Kitchen Connection

Using this space to Connect you with the world, your world!