Kitchen Connection - Kitchen Connection Goes to: Greece!
Back to Blogs
Stepping into the Mediterranean climate of Greece, the first thing you'll notice is the beautiful architecture surrounding you. Greece is known for its ancient and modern attractions, including ancient museums and archaeological sites and cities.
Independence Day and Celebration of Evangelismos, Labor Day, Assumption of the Virgin Mary, and the 28th of October are all fun holidays that are recognized in Greek culture. Although some are religious, they mainly involve military parades and flower feasts.
Food for the Greeks seem to be a way of communicating amongst each other; they consider it a way to talk to the heart of someone. According to multiple scientific studies, a balanced Greek diet has shown to have a positive effect on a person's health, beauty and longevity.
"Insider Foodage"
Country: Greece
Continent: Europe
Capital: Athens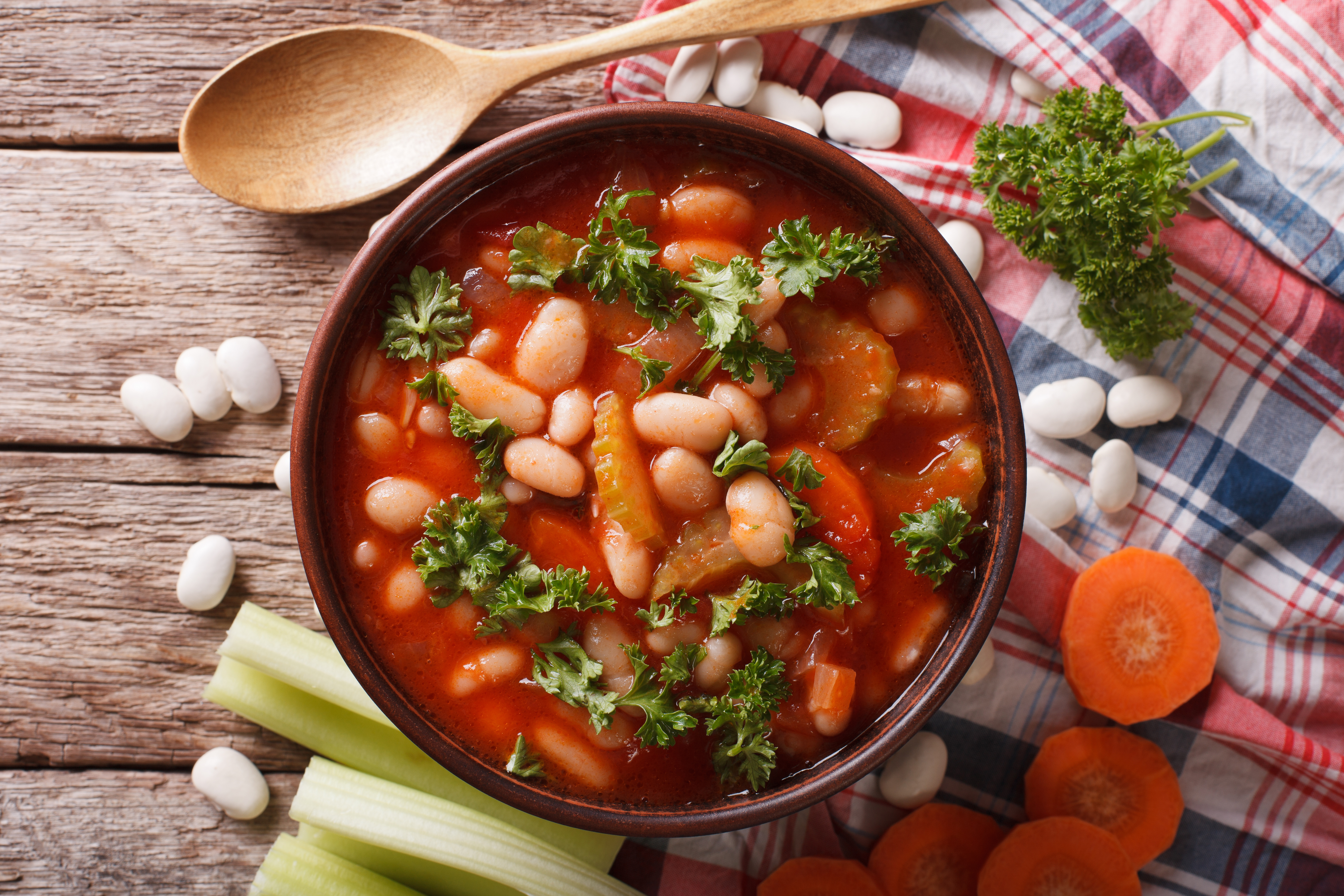 Fasolada is a well-known national dish of Greece. This white-bean soup made of beans, tomatoes, carrot and a generous amount of celery is a highly nutritious meal that is enjoyed throughout Greek households and restaurants.
Largest City (ies): Athens and Thessaloniki
Culinary travel destination(s): Patmos and Santorini
Primary Language(s): Greek
%Urban to Rural: 78% Urban vs. 22% Rural
Primary Agricultural Exports: 70% of the land cannot be cultivated because of poor soil or because it is covered by forests. Of the remaining 30%, cotton, tobacco, grapes, melons, tomatoes, peaches, and oranges are popular European Union exports. Greece's olives are the country's most renowned export crop.
Population: 10,900,398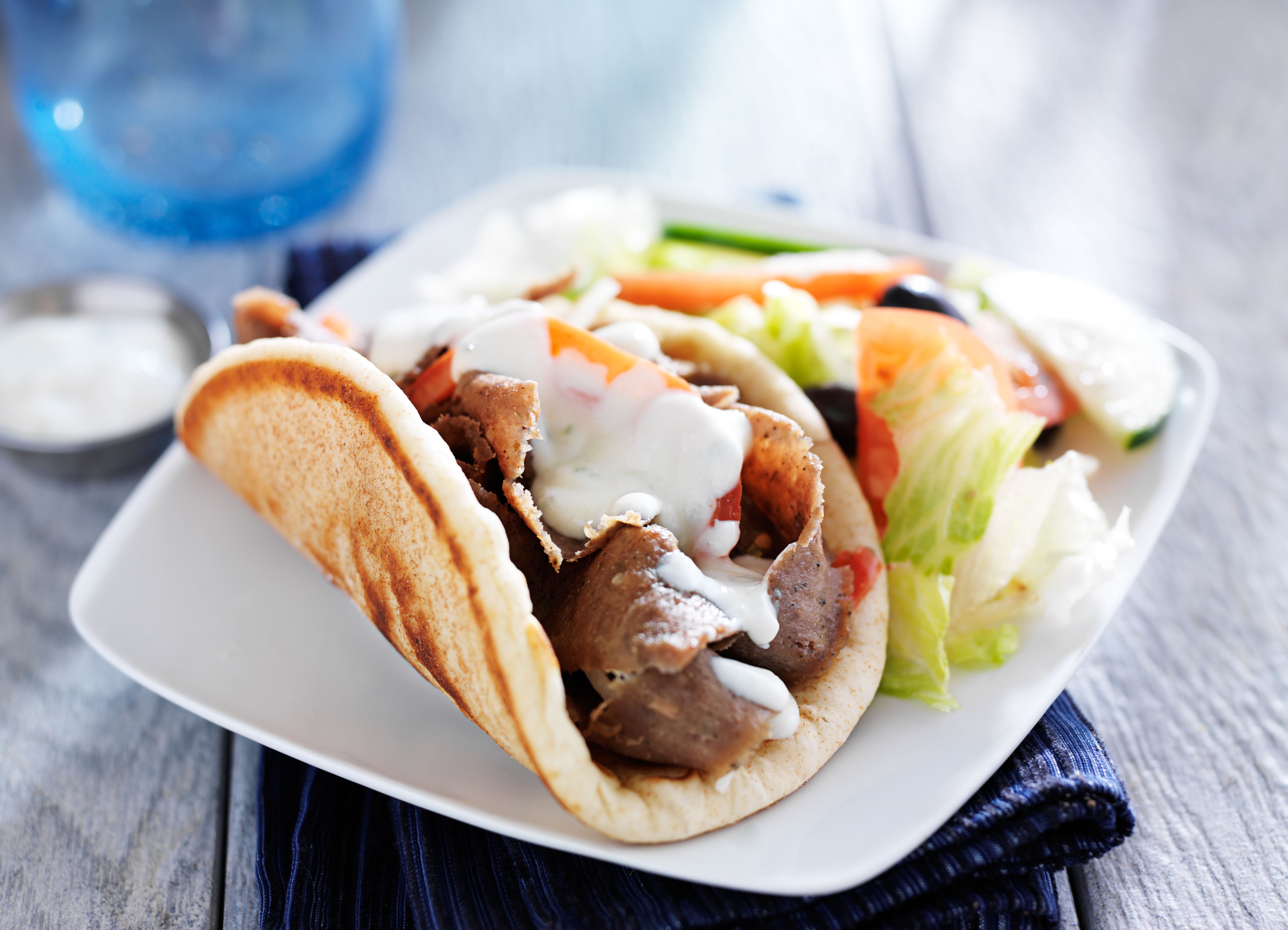 Gyro
Gyros can be made with a number of ingredients. Generally, they are filled with meat that's been roasted and sliced on a turning spit. They are typically served with sauces like tzatziki and garnishes (tomato, onions) on pita bread. It is a very popular fast food item in Greece.
*Food expenditure for one week: €36 or ~$41
*Caloric intake available daily per person: 3,700
*Alcohol consumption per person: 10.3 litres
*Obese population: male 27.9% /female 25.6%
*Big Mac Price: 3.69 U.S. Dollars
*Meat consumption per person per year: 74.8 kg
Prevalence of Hunger: <5%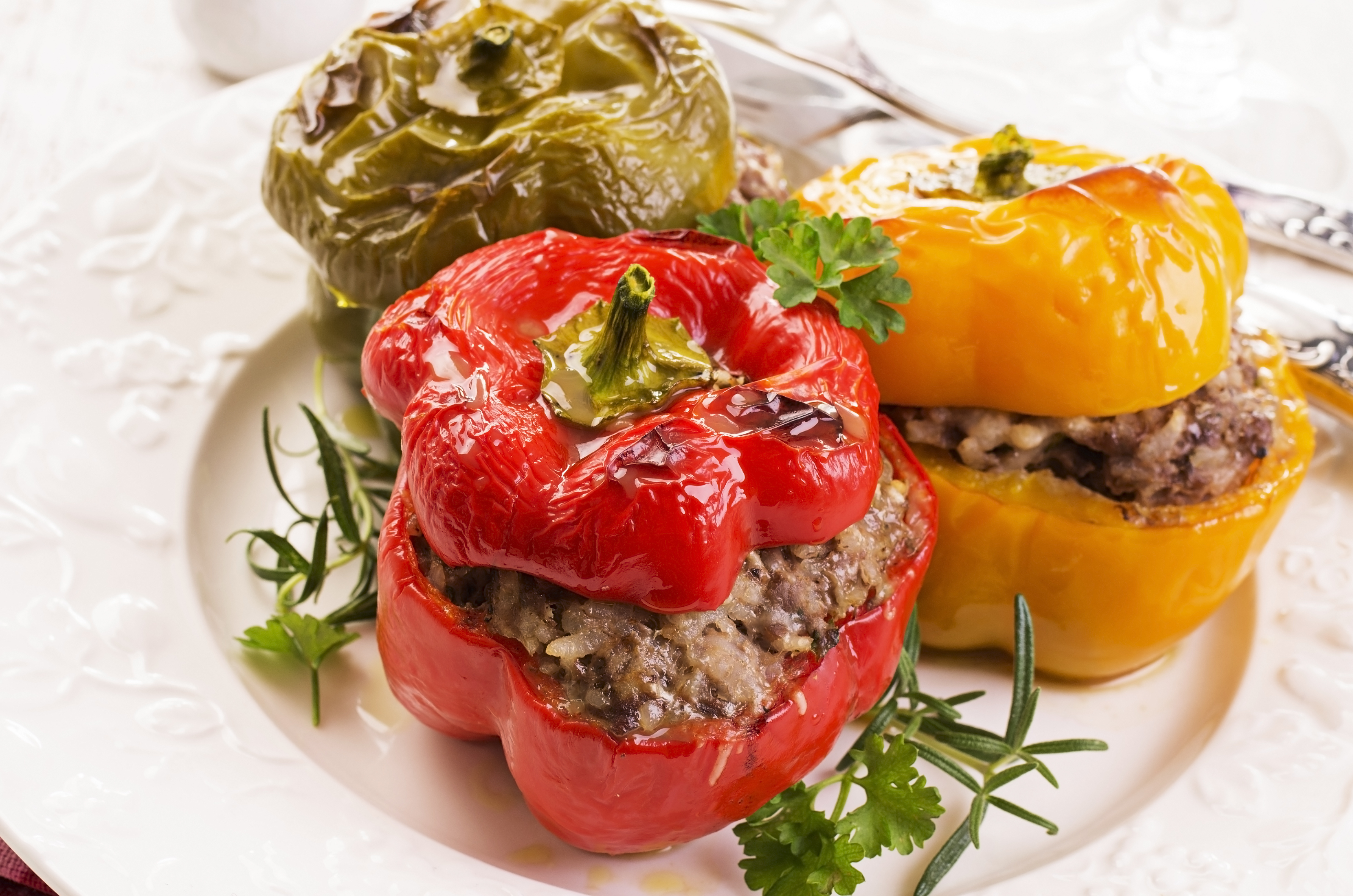 Yemista
Ideal for vegetarians ready to experience Greek cuisine, Yemista, in basic terms, is a baked stuffed vegetable. It usually is a tomato, pepper, potato, or zucchini that has been hollowed out and baked with rice and an herb filling. For a non-vegetarian option, minced meat is commonly added into the filling.
Culture: Greek culture today: language, traditions, religion, food, music and more.
National Dish (es): Fasolada, a white-bean soup, is made of beans, tomatoes, carrot and a generous amount of celery usually served with a variety of salty side dishes (like olives or anchovies).
National Drink(s): Ouzo, Raki, and Tsipouro are the national drinks of Greece. Ouzo is is either produced by partial distillation or the admixture of plain alcohol with aromatic herbs. Each location prides itself on its ouzo but the most famous are from the island of Lesvos and from Tyrnavos in Thessaly. Raki and Tsipouro are often confused with one another. Both are made from grapes not destined for wine-making yet still capable of producing quality distilled spirits. The main differences among them are the degree of alcoholic content and the addition or not of anise seed, which is often added to tsipouro but never to raki.
Special Holiday Foods: Holiday foods will depend on the holiday and the family's ethnicity. The following are just some examples:
- Easter: For Easter Sunday's meal, families eat roasted lamb flavored with herbs, and braided bread decorated with dyed eggs. Other foods included are cheese, olives, taramosalata, spinach and feta salad, artichokes Constantinople, rice pilaf, cookies, Easter twists, and baklava.
- Saint Basil's Day/Greek New Year's Day: A special New Year's bread known as Vasilopita is eaten on this day. It is prepared only on this day of the year.
- Christmas: Families typically share a big dinner together including cheese or meat filo pastry triangles, feta cheese, pistachio nuts, a Greek salad, cauliflower, artichokes, roast suckling pig, stuffed turkey and Christmas bread and kourabiethes.
Fun foodie facts: With an area of 50,949 square miles, Greece is roughly the size of Alabama. The population of Greece is more than 10 million people compared to the population of Alabama which is around 4.5 million. Approximately 16.5 million tourists visit Greece each year, more than the country's entire population. Tourism constitutes nearly 16% of the gross domestic product (GDP). Because so many people want to visit, Greece has more international airports than most countries. The Greeks have cultivated olive trees since ancient times making them the world's third leading producer of olives. Some olive trees planted in the thirteenth century are still producing olives.
Tags :
Kitchen Connection
Greece
Featured
Country
Greek
Food
Travel
Kitchen Connection

Using this space to Connect you with the world, your world!